MEYTAL - The Witness
---
---
Welcome to this very special moment in time. The pre-release celebration of the second MEYTAL album The Witness, made possible by you hhhamazing people.
Now, let's face it, it's a select few that are still buying music, but I'm gonna do my absolute best to get you to buy it. here. why? I'm so glad you asked. by buying this album you are supporting a vision of a world filled with ppl doing what they LOVE. supporting independent creation, free from any outside influence driven by corporate greed. home-made with all organic ingredients. and if that's not enough I'll give you a few more reasons. I'll sign it. I'll bless it with happy vibes. it will be one of a kind. it will be extra special. you might get a lollipop. Let's get started.
If you don't know this about me yet, I'm very judgmental and suuuuper critical. when I listen to our first record Alchemy, I hear allll the things I could have and should have done, but with The Witness it's different. I can actually almost forget to nitpick the hell out of it, and that's saying a lot. I feel that each of us brings a unique style that's different enough from one another to create this unique sound. I want every song to sound like a Tool song, Sahaj wants every song to be a radio hit and Travis wants to turn every song into a math quiz. I know it sounds like a cliche but it really does have something for everyone. major props to our singer producer and melodic genius Sahaj Ticotin for making magic while keeping the essence of each player alive!
Huge thanks to Clint Lowery of Sevendust for co-writing Armalite with us - I know I've said this before but it's important to mention that Sevendust is prob my biggest and first real influence. I wish I could go back in time to jaded clueless high-school meytal to tell her this was in her future.. But I suppose that would have really ruined the epic surprise.
to celebrate this wondrous time in my existence, I've put together some special limited-edition packages! every album you order during this campaign will carry the "First-Press" seal which marks the first time a public release of "The Witness" has been printed in it's official form. I will personally apply your First-Press seal as part of my self made mini-sweatshop of 1 -  I look forward to preparing your order, and eating the organic lollipop which will also be included in your package (you'll get a fresh one). the epic Cameron Gray T's will also spell out "First Press" and when I see you wearing one of these I will be alerted to the fact that you indeed know what's up.
Have you ever met someone that can flawlessly play guitar, bass AND drums, have the most insane vocal range, and come up with a hit song in 2 and a half minutes? Although the band is called MEYTAL (my birth name.. in case you were wondering), the band could quite easily have been called SAHAJ. The amount of talent this one person has is unparalleled, and although I would never compliment him to his stupid know-it-all face, he's just remarkable.
Pic by Marc Liscio
Travis Montgomery on guitar, my favorite cyborg alive. Downloading new guitar licks into his internal hard-drive as we speak. JK, he's human, I'm pretty sure, and one of my favorite people. His guitar parts are really fun to drum to.. I just need like 5 hours to figure out where the 1 is.
Anel pedrero my amazing bassist was not able to take part in the creation of this album.. she was sick and missed quite a bit of the action. (it's also the reason she's not in the Broken Circus Ride video) but she's back now, healthy, and already kicking major ass.
Our man Doc Coyle has been killing it with Bad Wolves, they've been touring A LOT and he's no longer an active member in the MEYTAL band although remains so in spirit. Luckily Sahaj is super comfy singing and playing rhythm guitar, so we got it covered. incredibly lucky to have found these people, and would not have been here without them, so I just wanna take a moment to say….good job, universe.
If you're thinking "meh, I'll just wait for this album to be released for streaming, what do I need an actual album for? I don't even have a CD player." let me tell you, this album is like a visual work of art. Cameron Gray, my Australian prodigy, once again has put on his magician hat, and came up with this most amazing piece of artwork. you don't have to listen to it, you can hang it up on your wall, or put a string through the CD and wear it as a necklace. Ok. that might not catch on, but you get what I mean. It's gold. Thanks Cameron, for your endless patience and talent, once again you managed to hit it out of the park.
Artwork by Cameron Gray, Video by Omid Pakbin
To highlight the epicness of Camron's art, we collaborated with After Effect genius Omid Pakbin on a lyric video to "A Dream".. one of my favorite songs on the album. Omid somehow managed to make this already mind blowing art better by bringing it to life, and taking us on a ride through the mysterious world of The Witness. someone really needs to turn this into a virtual reality experience. but let's first release this album, yes?
there has been a small army of ppl that have made this album come to life, starting with 2,927 kickstarter backers that have essentially pre-ordered the album before it was made, to make its creation possible. Although I'm soo very thankful for this amazing group of supporters, at some point (in the not so distant future) I hope to reverse the order of things. And I'm hoping the time is NOW. Can we make it happen? Can we make enough Moolah from THIS release to pay for marketing, finance some shows and potentially another album? I want to say YES. who's with me?
For most of you, this is not your first time here with me. You've been around and a major part of my career, some, for about a decade now. For those new around these parts, hey, whats up, I'll give you the mega short recap: Grew up in Israel, family is still there. my dad was ran over by a drunk driver when I was 7, and my mom raised me and my 6 siblings by herself. I always wanted to be a drummer, in contrast to my mom's futile, everyday run of the mill Jewish mom's hope that I'll become a Doctor.
I started playing drums when I was 18, around the same time that I was drafted to the Israeli Defense Force for 2 years. when I was released I moved to LA and after a half a year broke my back in a car accident, went back home, had a rough time for a while, but I'm still here pounding drums years later. after I healed, I went back to LA, me and some friends uploaded an audition video to America's Got Talent, didn't make it on TV but went viral on the internet. one thing led to another and I now have you here, reading.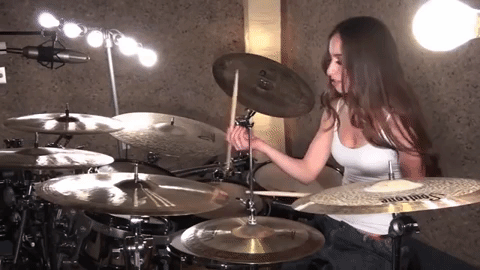 am I the best drummer around? no. some say I was lucky, some say I was cute, some say good drummer but who the f is making her laugh?! 250 million YT views later, my fans helped me fund my first original album Alchemy. you should check it out, it's cool. when it was ready, I thought I'll sign with a label but the labels I talked with offered me some majorly shitty deals, so I decided to self release it. the album did good but had limited reach beyond my tight group of awesome insiders. well this time I'm going major. still no major label, but a major effort, to go major in the free world. I'm literally putting all of my resources into THIS release, in an "industry" acceptable way of doing things with my super homemade label.
Artwork by Steven Leijen
Hope to be able to keep doing this.. Hope I'll be able to inspire others, or make them crack a tiny smile. Hope you'll dig the music.. Hope you'll buy the album. Hope you'll sing along to Sahaj super loud in your car, hope you'll air drum in the shower, hope to meet you at an upcoming show and confirm that you are, in fact, good ppl. hope to not f*** up on stage like I did in the Milwaukee show when I started playing "Breathe" 200 bpm faster than I should have, and hope to go to the beach soon.. Cause it's been a while.
Bringing this project to life has been a personal evolution for me, both as a musician as well as a human. from hoping and waiting for some magical opportunity to come along, to finally being at ease with what is, and knowing that whatever I reeeeally want, I can make happen myself, and knowing that when I finally get off my butt and do it, it will mean so much more.
Pic by Marc Liscio
Whether this album goes any further past this very point, or if it'll be a somewhat kept secret.. you guys have been my true enablers from day one, this album IS a testament to how freakin awesome you are. again and still after all these years - you rule.


Love you my ppl.
Thanks for every tiny thing ! :)